Sing a Song
A Sailor Went to Sea
Today's color is blue like the sea! Sing A Sailor Went to the Sea and use hand motions.
A Sailor went to the sea sea sea
To see what he could see see see
But all that he could see see see
Was the bottom of the deep blue sea sea sea
Talk about all the things that you can think of that are blue!
Watch!
Blue is the color of the day on Color Crew!
Try This!
Kids love to play with flashlights. Go through your house and search for things that are blue. Have your child shine a light on anything they find that is blue.
TumbleBooks!
Frank and Izzy Set Sail by Laura McGee Kvasnosky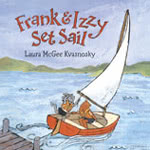 Books to Check Out from the Library