Sing a Song
Mother Goose Time!
Rock-a-bye, baby,
In the tree top:
When the wind blows,
The cradle will rock;
When the bough breaks,
The cradle will fall;
Down will come baby,
Cradle and all.
Watch!
A Peep of a Different Color
Try This!
Today's color is dark green. Talk about all the kinds of trees you can think of and what trees do for us. If you can, take a walk outside to see the trees together as a family.
Using brown and various shades of green paint, spend time painting trees!
TumbleBooks!
Some leaves start out dark green, but in the fall, they change color and fall of trees. Read Trout are Made of Trees by April Pulley Sayre!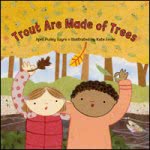 Books to Check Out from the Library