Sing a Song
I'm a Lavendar Fish
(Tune: "I'm a Little Teapot")
Here's another song about this particular shade of purple.
I'm a lavender fishy, I can swim.
Here is my tail, here is my fin.
When I want to have fun with my friend,
I wiggle my tail and dive right in.
Try This!
Today's color is lavender. Have you ever smelled a plant called Lavender? Find lavender in a garden store and plant it for the spring. You can even grow it indoors! Check out this link from HGTV to learn how!
TumbleBooks!
A Butterfly is Patient by Dianna Hutts Aston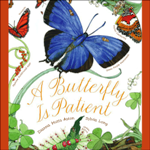 Books to Check Out from the Library