Sing a Song
Our Baby (folksong)
Cheeks of rose, tiny toes,
Has our little baby;
Eyes of blue, fingers too,
Cunning all as may be.
Mouth so fair, skin so clear,
Just as soft as may be;
Bonny eyes, looking wise,
Such a precious baby.
Thee I love, sweetest dove,
Darling little baby!
While I live, thee I'll give
Kisses warm as may be.
Crow and play all the day,
Happy little baby!
May your life, free from strife,
Pure as 'tis today be.
Watch!
Make a beautiful piece of art with your child using pastel colored chalk!
TumbleBooks!
Make your mark and see where it takes you! Read The Dot, and then create more art using pastel colors of paint, markers, or crayons!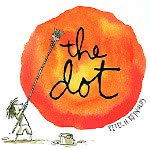 Books to Check Out from the Library