Sing a Song
Mother Goose Time!
Sing a Song of Sixpence
Sing a song of sixpence,
A pocket full of rye;
Four-and-twenty blackbirds
Baked in a pie.
When the pie was opened
The birds began to sing;
Wasn't that a dainty dish
To set before a king?
Watch!
Fruit and Veggie Hokey Pokey – The Learning Station
Try This!
When you go to the store, spend time pointing out to your child the colors of the foods and their names.
TumbleBooks!
Bebe Goes Shopping by Susan Middleton Elya; illustrated by Steven Salerno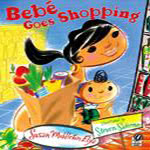 Books to Check Out from the Library