Sing a Song
Mother Goose Time!
Ring Around the Rosy
Ring around the rosy,
Pocket full of posy,
Ashes! Ashes!
We all fall down!
Watch!
Be a Vegetable Taster - trying new foods with Daniel Tiger!
Try This!
Talk about Southern foods. Do you know how to make boiled peanuts, iced tea, or grits? Try to make some together!
TumbleBooks!
Lima Bean Monster by Dan Yaccarino; illustrated by Adam McCauley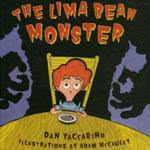 Books to Check Out from the Library