Sing a Song
Mother Goose Time!
Pat-a-cake, pat-a-cake, baker's man
Pat-a-cake, pat-a-cake, baker's man,
Bake me a cake, as fast as you can;
Pat it, prick it, and mark it with B,
Put it in the oven for baby and me.
Watch!
Read a Book - Children's Song By The Learning Station
Try This!
Spend some time reading today! When your child sees you reading, they will mimic your behaviors. Try to schedule one day each week to be "screen free." Do it as a family and make special plans like going on a picnic, reading aloud as a family, and spending time together.
TumbleBooks!
Let's Do Nothing! written and illustrated by Tony Fucile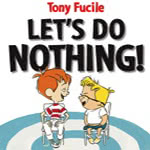 Books to Check Out from the Library