Sing a Song
The Matzah Making Song
(Tune: "Row, row, row your boat")
Roll, roll, roll your dough (one hand palm up, other hand above it, palm down making circular motions).
Make it nice and round (make a circle with fingers).
Make it flat (one hand palm up, slap other hand down on it),
Poke lots of holes (one hand palm up, with your fingers on the other hand pretend to poke holes in palm up hand),
And bake it till it's brown (both hand palm up, touching on sides, move forward, as if putting a tray in the oven).
Watch!
PBS Learning Media – Passover
TumbleBooks!
Moishe's Miracle by Laura Krauss Melmed; illustrated by David Slonim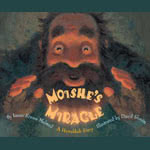 Books to Check Out from the Library