Sing a Song
Parts of a Book
(Tune: "The Farmer in the Dell.")
The author writes the book.
The author writes the book.
Hi, ho, librario.
The author writes the book.
The illustrator draws the pictures
The illustrator draws the pictures
Hi, ho, librario.
The illustrator draws the pictures
Add your own lyrics using other parts of the book – for example, the spine keeps it together, the copyright tells you when, and the book jacket keeps it safe!
Watch!
How Books Are Made/Parts of a Book
Try This!
Point out the name of the author and illustrator of a book. Talk about what each person does.
TumbleBooks!
Ook the Book by Lissa Rovetch; illustrated by Shannon McNeill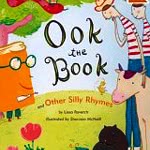 Books to Check Out from the Library