Sing a Song
She Sells Seashells
Try this tongue twister!
She sells seashells,
By the seashore.
The shells she sells,
Are surely seashells.
So if she sells shells,
On the seashore,
I'm sure she sells,
Seashore shells.
Watch!
Sesame Street: Cookie Monster Makes a Sandwich
Try This!
S is for Sign Language
Explain the idea of sign language to your child. He or she already knows how to say hello and goodbye by waving. Teach him or her how to say "I love you."
TumbleBooks!
Sammy Spider's First Shabbat by Sylvia A. Rouss; illustrated by Katherine Janus Kahn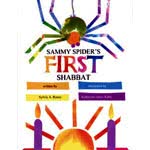 Books to Check Out from the Library