Sing a Song!
Old King Cole
Old King Cole was a merry old soul, and a merry old soul was he;
He called for his pipe in the middle of the night
And he called for his fiddlers three.
Every fiddler had a fine fiddle, and a very fine fiddle had he;
Oh there's none so rare as can compare
With King Cole and his fiddlers three.
Try This!
Play pretend instruments together like piano, guitar, flute, and drums.
TumbleBooks!
The First Music by Dylan Pritchett; illustrated by Erin Bennett Banks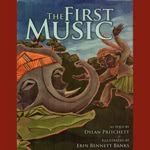 Books to Check Out from the Library