Sing a Song
Mother Goose Time!
Hey, Diddle, Diddle
Hey, diddle, diddle,
The cat and the fiddle,
The cow jumped over the moon;
The little dog laughed
To see such sport,
And the dish ran away with the spoon.
Watch!
Intro to the Violin
Try This!
Turn on some violin music and let your child paint while the music plays.
TumbleBooks!
The Man with the Violin by Kathy Stinson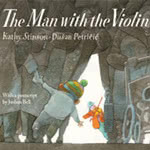 Books to Check Out from the Library