Sing a Song
The Doctor's Song
(Tune: "Row, Row, Row Your Boat")
I use a stethoscope
To listen to your heart.
To help you be a healthy child
And heal you when you aren't.
Watch!
What happens when you visit the doctor? SciShow Kids
Try This!
Set up a pretend doctor's office and let your child be a doctor. Talk about what the doctor does at each visit.
TumbleBooks!
Read a little bit from this novel each night before bedtime! The Story of Doctor Dolittle by Hugh Lofting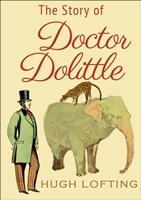 Books to Check Out from the Library
Doctor by Samantha Bell
Doctor Ted by Andrea Beaty; illustrated by Pascal Lemaitre
Explore More!
Doctor Maisy
This Maisy story can be read aloud by a parent or older sibling.