Sing a Song
Bubble Bath
(Tune: Eensy Weensy Spider)
Once I'm in my bubble bath
I like to stir up more.
Half the suds go in my eyes
And half go on the floor.
The fun is in the bubbles 'cause
They jiggle on my skin.
And when I stick them on my face
They dangle from my chin.
Watch!
The Amazing Bubble Man
Try This!
Make bubble solution with dish detergent. Sit outside together and blow bubbles. Do you see any shapes in the bubbles floating by?
TumbleBooks!
Read a chapter each night before bathtime! Goldfish Don't Take Bubble Baths by Trina Wiebe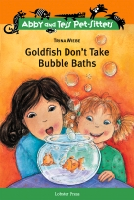 Books to Check Out from the Library
Explore More!
Make your Own Bubbles - This page is full of bubble activities, from bubble mix recipes, games, hints for big bubbles, and more.
Make Soap Bubble Art - Blow bubbles and make a work of art to proudly display!