Sing a Song
One, One, the Zoo is Lots of Fun
One, one,
The zoo is lots of fun
Two, two,
See a kangaroo
Three, three,
See a chimpanzee
Four, four,
Hear the lions roar
Five, five,
Watch the seals dive
Six, six,
There's a monkey doing tricks
Seven, seven,
Elephants eleven
Eight, eight,
A tiger and his mate
Nine, nine,
Penguins in a line
Ten, ten,
I want to come again!
Watch!
Sesame Street: Murray Goes to the Zoo
Try This!
Make a zoo animal collage. Cut out pictures of (or draw) animals that you find at the zoo. Paste them on a big piece of paper. If you cannot visit a real zoo, find a zoo online with a live web cam and watch the animals from home like this one from the Smithsonian!
TumbleBooks!
Felicity Floo Visits the Zoo written and illustrated by E.S. Redmond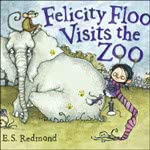 Books to Check Out from the Library