Sing a Song
A Chubby Little Snowman
Make up actions to go with the lyrics of this fun rhyme.
A chubby little snowman
Had a carrot nose
Along came a rabbit
And what do you suppose?
That hungry little bunny,
Looking for his lunch,
ATE the snowman's carrot nose...
Nibble, nibble, CRUNCH!
Watch!
Up on the Housetop Learning Station
Try This!
Chubby Little Snowman
With your child, write a poem about a chubby little snowman.
TumbleBooks!
Story of Snow by Mark Cassino with Jon Nelson, Ph.D.; illustrated by Nora Aoyagi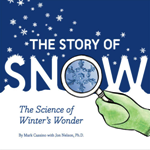 Books to Check Out from the Library