Sing a Song
I'm Thankful
(Tune: "Row, Row, Row Your Boat")
I'm thankful for my friends and my family.
I'm thankful for the food I eat
I'm happy to be me!
Watch!
Watch Todd Parr read his book, The Thankful Book!
Try This!
Help your child write and send a letter to a family member. In the letter, have your child thank that family member for something they have done.
TumbleBooks!
Tops and Bottoms by Janet Stevens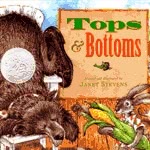 Books to Check Out from the Library