Sing a Song
Apples and Bananas (Folk song)
I like to eat, eat, eat apples and bananas
I like to eat, eat, eat apples and bananas
A
A lake to ate, ate, ate ay-ples and ba-nay-nays
A lake to ate, ate, ate ay-ples and ba-nay-nays
E
E leke to eat, eat, eat ee-ples and bee-nee-nees
E leke to eat, eat, eat ee-ples and bee-nee-nees
I
I like to ite, ite, ite i-ples and by-ny-nys
I like to ite, ite, ite i-ples and by-ny-nys
O
O loke to ote, ote, ote oh-ples and bo-no-nos
O loke to ote, ote, ote oh-ples and bo-no-nos
U
U luke to oot, oot, oot oo-ples and boo-noo-noos
U luke to oot, oot, oot oo-ples and boo-noo-noos
Watch!
Apples and Bananas with the Learning Station
Try This!
Eat the Rainbow! Buy fruit in all colors of the rainbow and arrange on a plate in the shape of a rainbow! Have your child taste test the fruits on the plate. Naming colors and fruit as you go! Some suggestions: apples, grapes, kiwi, bananas, strawberries, pineapple, oranges, and blueberries.
TumbleBooks!
Want to know how food travels through your body? Watch/read The Quest To Digest by Mary K. Corcoran; illustrated by Jef Czekaj!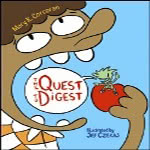 Books to Check Out from the Library