Sing a Song
I've Got Something in My Pocket
I've got something in my pocket that belongs across my face
I keep it very close to me in a most convenient place
Oh, I know you'll never guess it if you guess a long, long while
So I'll take it out and put it on. . .
It's a great big happy smile.
Watch!
The Learning Station - Imagination, Communication
Try This!
This month is all about using your imagination! Imagine something amazing and then draw it with a purple crayon. If you have a copy, read Harold and the Purple Crayon.
TumbleBooks!
Do you have a best friend that you can share your imagination with? Read about two worm best friends in Wiggle and Waggle by Caroline Arnold; illustrated by Mary Peterson.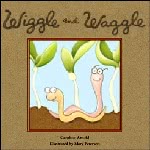 Books to Check Out from the Library